This fall, there is good news and bad news from Florence. Lovers of the city rejoiced during the last week of October when, just before the visit of Pope Francis, the scaffolding and giant canvas tarps around the Baptistry finally came down. Since February 2014, the nearly thousand year old Florence Baptistry has been wrapped and blocked from view while its walls were given their first top to bottom cleaning in seventy years. Like a giant gift box finally opened, all can finally see what has been missing from the heart of the city for almost two years.
The $2 million restoration was a huge undertaking not just because of the size of the building or its age, but also due to the variety of marble found on the Baptistry's exterior. According to the Opera di Santa Maria del Fiore, which manages all the historic buildings in the piazza, its cladding ranges "…from Apuan [Carrara] marble to the oldest marble recycled from ancient Roman buildings and tombs." Most difficult to handle of all is the green serpentine of Prato, a very fragile stone. Depending on the material, conservators used chemical softeners, sponges, scalpels and lasers along the eight sided building.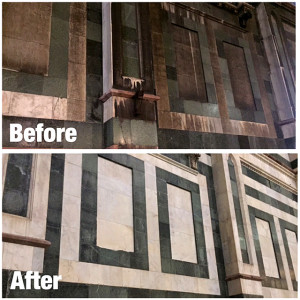 Yet I am happy to report from a visit earlier this month that the results are simply spectacular. The white marble looks bright and fresh. It contrasts beautifully with the black and green marble, which now appear deep and resonant. The Baptistry's designs seem crisper and more abstract than before – almost modern.  In comparison, the nearby 19th century facade of the Duomo's entrance, cleaned not so long ago, seems not just overly complicated, but also tired and grimy.
Perhaps most shocking is the change in the Baptistry's roof. In the past, it had a gray metallic color with what looked like some random splashes of whitewash.  Now, one can see that it is not made of lead at all but stark white marble.
The success of the restoration is good news to art and architecture lovers. Unfortunately, the news is not so good concerning the long awaited expansion and reopening of the Museo dell'Opera di Santa Maria del Fiore. The two and a half year renovation tripled the exhibition space of the museum and allowed for a complete reconsideration of its exhibits. It now has a great hall, the largest exhibition space in Florence, which features a life-size reconstruction of the original Medieval façade of the Duomo and the newly cleaned Baptistry doors by Lorenzo Ghiberti, "the Gates of Paradise". Continue reading →