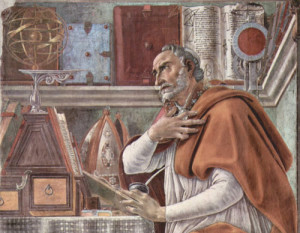 One of the treasures of the Ognissanti Church in Florence has been missing for years. Ognissanti, known for being the burial place of Sandro Botticelli and Amerigo Vespucci, and for its huge and recently restored Giotto crucifix, is a pilgrimage site for art lovers and romantics. In 1480, the Vespucci family commissioned a pair of frescos that face each other across the main nave:on the left, Saint Jerome at his desk, painted by Domenico Ghirlandaio; on the right, Saint Augustine in his study by Botticelli.
Sadly, the Botticelli  is no longer there. In its place is a photograph of the fresco. For years now, whenever I visit Florence, I go to Ognissanti hoping to see the original fresco has returned, only to be disappointed. The print at this point is fading badly, its colors turning a pale blue like an old family Kodachrome.
While I always assumed the fresco was only temporarily removed for restoration, about a month ago I decided to investigate. On a cold February morning, I approached a monk who was huddled in a corner near the entrance, wrapped in his robes, a stocking cap under his hood. I recognized him from my previous visits as the guardian of the church. He appears to be Asian, possibly from the Philippines. Even though we have never talked, I had a fond feeling for him because I believed he was responsible for the lovely recorded religious music that fills the church.
I asked in my weak Italian, "the Botticelli fresco, is it being restored?" The question seemed to rouse him. Over the next ten minutes, I would get an earful from the monk in a mix of Italian and English.
"In restauro? (restoration?) That's what they said. Two years ago! But it is not being restored at all."
"What do you mean?"
"It is on tour of Japan to earn money for the state."