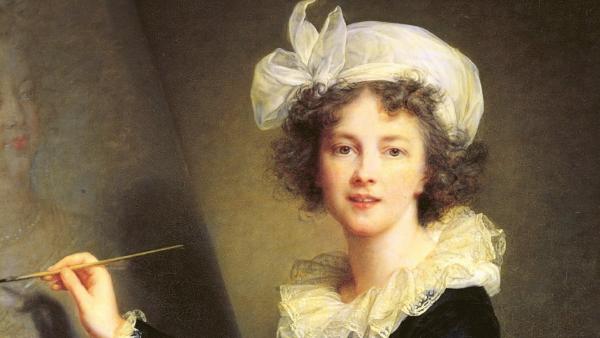 The odds were stacked against Élisabeth Vigée Le Brun, yet she became one of the most successful court portrait painters in France during the reign of Louis XVI. Many troubles would come her way during her life. But the worst may not have been the French Revolution, it may have been her husband.
Born in Paris in 1755, Élisabeth Vigée demonstrated great artistic promise as as a young girl. Her father, a pastel artist himself, told her, "You will be a painter, my child, if ever there was one." Still, her application to train at the painter's guild was denied because she was a female (even though her father was a member). Forced to learn at home, she set herself on a course that mirrored academic training by copying plaster casts and engravings. While her father helped with lessons, her mother took her to exhibitions and acted as her chaperon when the young Élisabeth visited homes to work on portraits.
By the age of 19, she already had a successful career. Too successful — she attracted the attention of the local authorities, who closed her studio down because she was not a member of the artist's guild. To make matters worse, after her father's untimely death when she was 12, her mother had married a wealthy jeweler who collected the young artist's fees and was not eager to share them with her.
Vigée managed to gain admission to the painter's guild after they unsuspectingly exhibited her paintings at their annual exhibition in 1774. By then, the daughter (whom her mother once thought homely) had become a beautiful young woman who attracted not only commissions but the attentions of many important people, including Jean Baptiste Pierre Lebrun, the most successful art dealer in Paris. Le Brun was one of the first dealers to sell artworks as investments and was an innovator in making art a much more international trade.
According to Vigée, Le Brun invited her often to his mansion, which was filled with art. "I was enchanted at an opportunity of first hand acquaintance with…works of the great masters. M. Lebrun was so obliging as to lend me, for the purposes of copying some of his handsomest and most valuable paintings."
To her surprise, in 1776, Le Brun asked her to marry him. Already a favorite portrait artist of Paris's aristocratic women, she wondered if it was wise to give up the name by which she had become well known. But her home-life was becoming miserable. Her stepfather had retired, was becoming increasingly ill-tempered, and was hoarding her earnings.