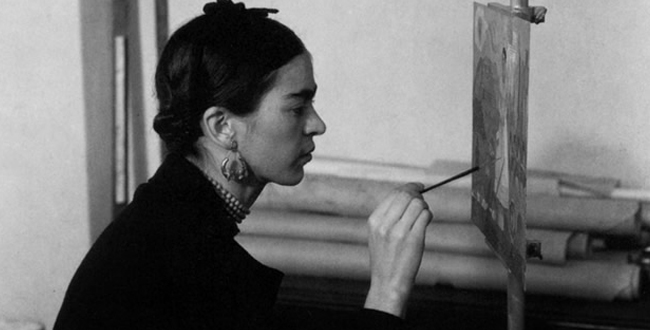 Frida Kahlo's home and studio, La Casa Azul in suburban Mexico City has been renovated in time to celebrate her 107th birthday. On the second floor, one can visit her studio just as she left it when she died in the nearby bedroom on July 13, 1954 at the age of 47.  On the easel is her last picture, an unfinished still-life of fruit.  Her wheelchair faces it.
The room is filled with light, with large windows that face a lush garden.  Across from the windows, a wall-length bookcase reveals the range of her interests and that she was exceptionally well read.  Among its books are guides to birds and trees, the writings of Lenin, Marx, Engels, and Machiavelli. The poetry of Byron and Whitman share space with Swann's Way, From Here to Eternity, and Spartacus.  The collection includes books by Lewis Carroll, Oscar Wilde, Dostoyevsky, Henry James, and Henry Miller, as well as the essays of Montaigne and the memoirs of both Casanova and Pancho Villa.  Her library includes hundreds more books — such as biographies of Caterina de'Medici and Lucretia Borgia, A Brief History of the World by H.G. Wells, and volumes on Mexican history.
Of course, there are many art books.  One can find van Gogh, Daumier, Derain, and Peter Arno, the New Yorker cartoonist.  One one shelf are Cranach, Bruegel, Prehistoric Art, Picasso, and Cezanne (in that order).  Right next to those is a curious volume called Art from the Mayans to Disney.
Finally, there are white paper boxes with hand-written or cut-out titles like "Articulos por Diego" and "Protest Rockefeller Vandalism," some decorated with her own drawings or collages.  These mysterious containers may contain clippings, letters, or other materials — hidden from our view but documenting important events and themes in Kahlo's life.
Below is a slide show of images of her studio.