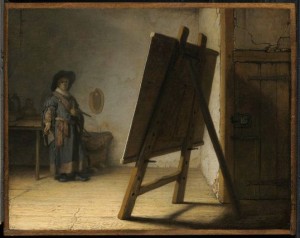 In Boston's Museum of Fine Arts, there is a small Rembrandt of an artist at work in his studio that symbolizes the difficulty of making art. The dark, large canvas on the easel seems huge and forbidding.  With thick, spread legs, it dominates the picture and looms over the artist, who appears to have backed away from it, perhaps in fear.
However, this painting has taken on a whole new meaning for me because of this frigid winter in the Northern U.S.  While I never gave it a thought in the past, the artist (who resembles Rembrandt) is clearly unnaturally bundled up in heavy clothing even though he is inside.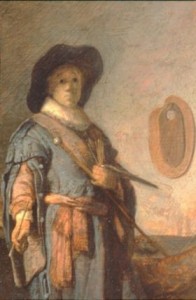 What is going on? Is the studio cold because the artist lacks the money to heat it? Or is it something else?
Painted around 1628, when Rembrandt was in his early twenties, the studio's bareness could simply depict a struggling, young artist and the tools of his trade.  We can see his palettes hanging behind him, brushes and a maul stick in his hands.  To the right, is a large grinding stone where he makes his paints. To the left, is a table probably with jugs of oil and solvent.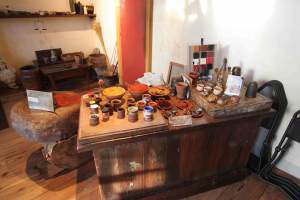 If you visit Rembrandt's studio in Amsterdam – Rembrandthuis — you can see many of the same things and even witness a demonstration of how he ground his dry pigments into a paste by mixing them with oil. This stone looks nearly identical to the one there.
But his clothing is a clue to something else.  In 1628, Europe was in the midst of what is known as "the Little Ice Age."  By the time of the painting, global cooling had been underway for more than a century.  In winter, the canals of Holland would freeze over and not thaw again until late in the spring. Growing glaciers had crushed small villages in Switzerland. The importance of the North American trade in beaver pelts was a direct result of climate change. Rembrandt's artist is probably wearing a felt hat quite popular in this era and made from those pelts. [The phrase "mad as a hatter" comes from the dangerous effects of the chemicals used to treat beaver fur.]
At the time of this painting, Amsterdam was rapidly growing and had become the most important port and economic center of Europe.  Homes were heated by burning peat harvested from bogs. Because of the rapid growth of Holland's population, however, the peat bogs had nearly been exhausted and peat's cost skyrocketed.
The combination of expensive fuel and the peaking of The Little Ice Age made for a poor time for a young artist to start his career. No wonder he is bundled up and fearful. It was really a cold world out there. I hope he sold the painting.