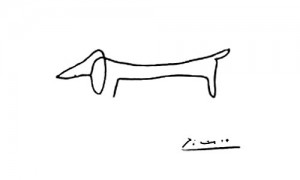 In April 1957, the photographer David Douglas Duncan visited his friend Picasso at La Californie, the artist's villa in the South of France.  He brought along his dachshund, Lump, and a mutual love affair began.
Picasso and his wife, Jacqueline, were having lunch when Lump first saw Picasso.  The confident young dog immediately walked up to him and put his paws on the man Duncan always referred to as "Maestro."  Picasso looked down and said, "Buenos dias, amigo!" Lump jumped into Picasso's arms and gave him a kiss.  Jacqueline was shocked. While Picasso's own dogs were often in his studios, Jacqueline had never seen Picasso allow them to sit in his lap. But Lump was no ordinary dog.  He immediately made himself at home and thereafter became a regular visitor.
On another visit, Picasso was disturbed to hear that Lump did not have his own plate to eat from and proceeded to create one for his favorite dog.  When finished, the famous artist proudly showed it to Lump. However, Lump was not that impressed.  His idea of an honor was finishing Picasso's meals or the privilege of walking on the dining room table.
Picasso was concerned that his friend Duncan had not properly introduced Lump to the many pleasures of life.  While his efforts to find Lump a wife proved unsuccessful, he did manage to introduce the young dachshund to his first rabbit, cut from a candy box.  The odor of candy must have been irresistible, because Lump immediately tore the rabbit apart, much to the delight of Picasso.
When Picasso was painting, Lump and Picasso's dog Yan were sometimes given guard duty on the steps of the villa.  They usually used the opportunity to wrestle or outstare each other.
According to Duncan, "when Picasso looked at Lump a sweet gentleness glowed in his eyes." Lump was given the run of the house and often followed the Maestro into the various studios in the villa.  Picasso didn't seem to mind when one day Lump was found covered in fresh oil paint after having an unfortunate encounter with one of the new paintings.  Lump, however, was not pleased to have his first turpentine bath.
Duncan took thousands of photographs of Picasso over the years of their friendship. He would silently shadow him in La Californie and on the streets of towns in the south of France. Much to the surprise of the photographer, Picasso never said no to any request. At the end of one visit, Duncan asked, "are there any you don't want me to publish?"  Picasso simply said, "Do I ask you how to paint?"
In the spring of 1957, Duncan was documenting the paintings that Picasso kept for himself and showed to very few visitors that would become the book "Picasso's Picassos."  Meanwhile Picasso was busy in an upstairs studio.  One day the painter asked his friend if he wondered what he was doing in the studio.  He led the photographer up the stairs, past the children playing, and opened a door that Duncan had never seen open.
Inside, he saw a room filled with new paintings.  Nine showed pigeons on the studio's balcony. They were an homage to Picasso's old friend Matisse, who had died three years earlier (see the earlier post, The Dove: Picasso and Matisse) .  But what stunned Duncan, was the Maestro had prepared an even greater honor for Lump. Picasso had completed a series of paintings based on the Spanish Baroque master Velázquez's greatest work — Las Meninas.  But he had replaced the dog in that painting with another.
There were more than forty canvases on the theme.  But, instead of the huge royal mastiff at the bottom right, there was skinny, little Lump.
Lump and Picasso remained friends for the rest of their lives.  Lump lived to 1973 reaching the ripe old age of 17. Picasso died ten days later.
[Note: all photographs are © David Douglas Duncan unless otherwise credited. The information in this entry is based on "Picasso & Lump: A Dachshund's Odyssey" by David Douglas Duncan — sadly out of print — and an excellent travelling exhibition seen in Mexico City's Palacio de Bella Artes called Picasso. Revealed by David Douglas Duncan.]