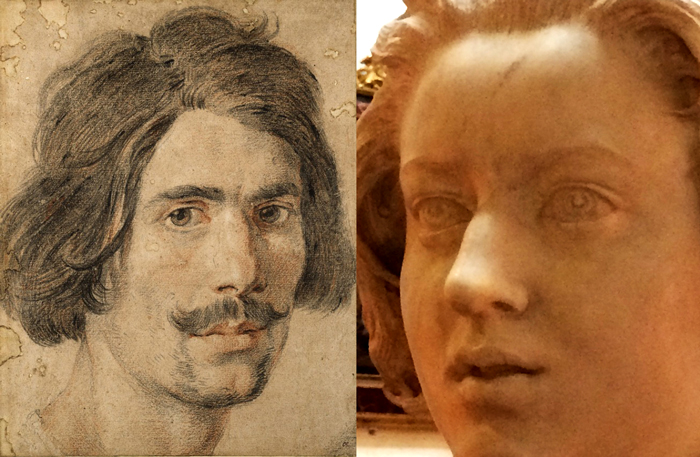 Regular visitors to Florence's Bargello, home to its great sculpture collection, know well the frustration of finding rooms, sometimes the whole second floor, closed. Imagine my shock in June to discover that not only was the second floor open but galleries I had never seen before. In one, amidst display cases with coins, was a treasure I didn't know existed, but learned later was quite famous and considered perhaps Gianlorenzo Bernini's finest portrait sculpture – his bust of Costanza Bonarelli. According to the label,
This celebrated bust is the most famous of Bernini's portraits. It is a very 'private' image that he perhaps made for himself and kept in his home for a long time…
Costanza was the wife of one of Bernini's assistants, when the artist was in his late thirties and working in Rome. He fell passionately in love with her and carried on an illicit affair.
Sensuality is a hallmark of Bernini's work. The passion in his Ecstasy of Saint Teresa is well-known to every art history student. Gazing at his much more direct portrait of Costanza, it is not hard to share the feelings of the sculptor for this young woman. She seems to be portrayed just after a liaison. Her hair is disheveled, her dressing gown is wrinkled, unbuttoned, and hangs loosely across her breasts. One can easily imagine that her make-up is long gone. Costanza looks out with parted, sensual lips and seems a bit dazed.
Bonarelli was no servant girl, but a member of the noble Piccolomini family of Siena, whose members included two popes, the dukes of Amalfi, and the patron of Galileo. However, by the 1600s the fortunes of her family line had tumbled and, before she married, the young Costanza had received money from to religious fraternities to keep her from a life on the streets. Her husband, Matteo, began working for Bernini about two years before this sculpture was made in 1637 or 1638. At the time, Costanza was about 24 years old and had been married for five years.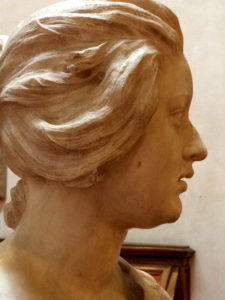 The affair ended in violence, but not between Bernini and Matteo (who continued to work for the sculptor for the rest of his life). Not long after the sculpture was completed, Bernini heard rumors that Costanza had begun another affair. He hid outside her house one evening and was shocked to see his brother and most valuable assistant, Luigi Bernini, sneaking out, his clothes disheveled.
Enraged, Gianlorenzo ran after and attacked his brother with a metal crowbar, breaking two of his ribs. Then he chased him back to the family home with a sword. Luigi made it inside first and their mother bolted the door. Overcome by rage, Bernini broke the door down and chased his brother out into the streets. Luigi made it into the papal basilica of Santa Maria Maggiore before his brother. Those doors proved too strong for Bernini.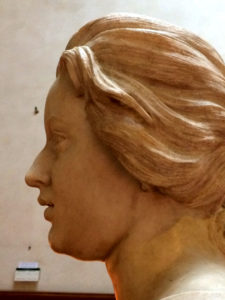 To make matters worse, the greatest sculptor of the Baroque period then sent one of his servants to Costanza to take revenge. Under orders by Bernini, he slashed her cheek with a razor. As a final act, Bernini, who had painted a picture of himself and his mistress, went home and cut her face out of the painting.
Word of this scandalous affair did not take long to reach Bernini's patron, Pope Urban VIII. By this time, the wounded Luigi had already fled Rome. Unwilling to lose the services of so talented an artist, the pope delivered an ultimatum to Gianlorenzo Bernini — marry or else!  Which he did, in what turned out to be a happy marriage to Caterina Tezio that lasted 34 years with 11 children. [There was apparently a mutual understanding. Bernini agreed to treat his wife 'exquisitely if she will prove capable of tolerating his nature, which is neither easy nor ordinary.'] A fine was imposed – ironically the amount was approximately the value of a portrait bust – but later waived by the Pope. The servant who disfigured Costanza was sent to prison.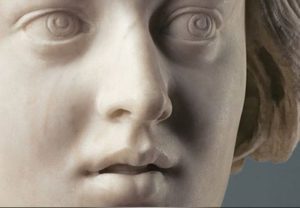 Costanza remained married to Matteo until his death in 1654. They became sufficiently well off to provide a handsome dowry for their daughter and even own an art collection. After she was widowed, she donated a painting by Poussin to the Louvre. She died in 1662.
Luigi would later return to the family business and work on important commissions with his brother. He did not stay out of trouble, however. He was jailed for brutally raping a young boy and breaking several of his bones. Bernini paid off fines to the boy's family and the Church and even got the Queen of Sweden to testify in his brother's defense (claiming that sodomy was common in Rome and among Florentines like Bernini's family).
Gianlorenzo Bernini, who died in 1680, is buried along with his large family inside the Basilica of Santa Maria Maggiore, where his brother Luigi finally escaped him. Over the years, the passionate young man became more and more religious. The sculptor who created the flamboyant tomb of his patron Pope Urban VIII in Saint Peter's, asked for only a modest marker that most people never notice — a step on the way to the main altar.