In recent years, the battle lines between tourist photography and museum guards have been shifting.  Once entirely verboten, more and more museums have given up the cause under an onslaught of mobile phones with built-in digital cameras.  First, the old cry of "No photo!" gave way to "No Flash!" Now, is this last bastion about to fall, too?
I must admit that for some time I have been engaged in a private mission to protect masterpieces from the threats of a thousand suns exploding.  Horrified at the laissez faire attitude of museum guards (the Louvre is a prime offender) unable or unwilling to stop the fireworks, more than once I've thrown myself between a tourist's flash and a Monet Waterlilies or a Van Gogh landscape. I've even felt compelled to berate an innocent father and lecture startled teenagers on the dangers they posed to the artwork they purported to love. I reminded them of the fate of the colored construction paper on their elementary school bulletin boards at the end of each school year.  Remember when the teacher pulled the posters off, you could see how much the colors had faded because of the bleaching effect of sunlight? Passionately, I'd rant, "imagine what that beautiful Matisse is going to look like in a couple of years after being blasted by hundreds of sunbursts every single day!"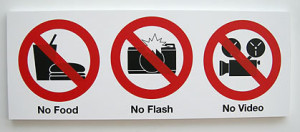 But recently, I was startled while reading an aside in a discussion on controlling photography in the American Alliance of Museums (AAM) forum.  An Executive Director, who shall remain unnamed, wrote, "There used to be some concern about damage to textiles from camera flashes, but that's not an issue with smartphones [my italics]."
Huh?
After doing some research (on the web, of course), I found the big question put succinctly on reddit.com's Ask Science forum, "To what degree, and how, does flash photography damage museum exhibits?"  To my horror, the answer appears to be — it doesn't.
While ultraviolet light or strong sunlight does bleach colors,
In general…the light from a properly UV-filtered flash is no more harmful to art than the ordinary gallery lighting, but many galleries and museums maintain a ban on flash photography out of an excess of caution.
Apparently, almost all flash units on cameras today have UV filters on them. Especially consumer grade cameras. Not because manufacturers share our concern about art. They are trying to avoid lawsuits by protecting people's eyes from being damaged.
In 1995, the National Gallery in London conducted experiments that concluded that flash photography was dangerous to artworks.  But their conclusions have since been disputed. One problem with their study was they tested only with watercolors, which are notoriously light-sensitive and generally kept in darkened rooms. They used some heavy artillery, too. Powerful flash guns were set to fire every seven seconds from three feet away and they even removed the UV filter from one of them. After months of this and more than a million flashes, the only visible damage was to the watercolor hit by flashes from the unfiltered gun.
Martin H. Evans, a British researcher, after examining this study and others points out with irony that, despite the scientific evidence, curators continue to ban "photographing things like Pharaonic Egyptian relics that have been bathed in the intense UV light of desert sunlight for over 3000 years."
Reddit.com has a long discussion on this topic.  I encourage you to read it. While much of what I once believed lies in tatters on the ground, I take some small comfort that there remains general agreement that flash photography is unnecessary and annoying. Of course, there is also the fact that flash photographs of art generally look terrible.
Still, if I could only find that humiliated father in the Metropolitan Museum to apologize to….